Link for view pictures : Part 1



Link for view pictures : Part 2









Date : 22 August 2015
Venue : Masjid Tuanku Mizan @Masjid Besi, Presint 3, PutraJaya
Time : 8.30am
Distance : 30km+- (For Kids 5.5km)
Fees : RM20.00 (Medal + Microfiber T-Shirt + Meal + Plate Number
+ Goodies + Lucky Draw)
Bicycle : All Type (On Road)





GOODIES COLLECTION
Date : 21 August 2015
Time : 3.00pm ~ 10.00pm
Venue : Masjid Tuanku Mizan Zainal Abidin, Presint 3, Putrajaya




Date : 22 August 2015
Time : 6.00am ~ 7.30am
Venue : Masjid Tuanku Mizan Zainal Abidin, Presint 3, Putrajaya


ORGANISED BY - JAKIM



Dear All,

Pendaftaran Akhir pada @11.30pm 18/08/15

Sila semak pendaftaran anda di website (click update participant) "REGISTRATION STATUS".

Selepas tarikh tutup system akan mengeluarkan nama anda secara automatik jika status masih 'Unpaid' or Pending'.
Ini kerana pendaftaran anda tidak sempurna.

Sila emailkan slip bank anda dengan segera jika sudah membuat bayaran seperti status diatas.


payment_bikeaway@yahoo.com.my

Terima kasih diatas kerjasama
___________________________________________________________________________________



Kindly check your (click update participant) "REGISTRATION STATUS" - 'Unpaid' or Pending'. After the due date those
names with the above mentioned will be removed automatically by the system.

Kindly forward your bank slip if status above mentioned.



payment_bikeaway@yahoo.com.my


Thank you for your cooperation.


Bikeaway Admin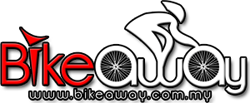 TSHIRT DESIGN - Microfibre










MEDAL DESIGN - Zinc Alloy








CONDITIONS PARTICIPATION / SYARAT-SYARAT PENYERTAAN


1- Self online registration. / Pendaftaran secara online (layan diri).


2- Perfect registration complete with payment prior to the closing date. / Pendaftaran yang sempurna lengkap dengan bayaran sebelum tarikh tutup.


3- Payment through Maybank, bank slip must email within 24 hours. / Pembayaran melalui Maybank mestilah email slip dalam masa 24 jam.


4- Registration are open for all levels of society (Muslim & Non-Muslim). / Pendaftaran terbuka pada semua lapisan masyarakat (Muslim & Non-Muslim) .


5- Children under 12 years old are the reponsibility of the parents or guardians during the event. / Kanak2 dibawah umur 12 tahun kebawah adalah tanggungjawap serta pengawasan ibubapa atau penjaga sepanjang acara berlansung.


6- Under 18 years of age have to get permission from parents or guardians before entering this event. / Dibawah umur 18 tahun mestilah mendapat kebenaran ibubapa atau penjaga terlebih dahulu sebelum memasuki acara ini.


7- No helmet no ride. / Tiada helmet tidak dibenarkan.

8- Etika permakain untuk muslim 'Rider' perlu menutup aurat.



Thank you for your support
For inquiries kindly call :


Registration Contact : 012-9802590 (IZA)